NEWS
Ghana commissions first Toyota assembly Plant In West Africa
By Ede George
President Nana Akufo-Addo of Ghana on Tuesday June 29, 2021 commissioned a Toyota assembly plant in Ghana.
The commissioning marks the deal sealed by the West African country with Toyota back in 2019.
Akufo-Addo commissioned the factory on Tuesday in the Toyota Tsusho Manufacturing Company Limited at Free zones Enclave, Tema.
The country has recently been described as attractive by multinational companies with Twitter being among the recent companies to invest in its market.
The Ghanian President had pledged to make the country an automotive hub in the region.
"By assembling and ultimately producing cars in Ghana, the importation of second hand used cars in Ghana will be reduced and at the same time, the export of made in Ghana cars to other African markets will earn our nation the much needed foreign exchange."
"Government will continue to create the enabling environment to boost the profitability of the emerging automobile sector in Ghana," he said.
For Alan Kyerematen, Ghana's Minister for Trade and Industry, inauguration of the Toyota plant was a giant stride towards advancing the country's automobile industry.
Kyerematen, "In Africa, we import millions of dollars of cars. I'm very confident that with what we're doing here, very soon, we will see made-in-Ghana cars all around Africa.
"The industry will create highly skilled jobs and promote training opportunities for the youth of our country. It will also have a multiplying effect by stimulating the growth of other sectors of our economy."
Speaking at the commissioning, the President said by assembling, and, ultimately, producing cars in Ghana, new and highly skilled jobs are being created.
He added his vision is to make Ghana a fully integrated and competitive industrial hub for the automotive industry in West Africa, and we are very much on course.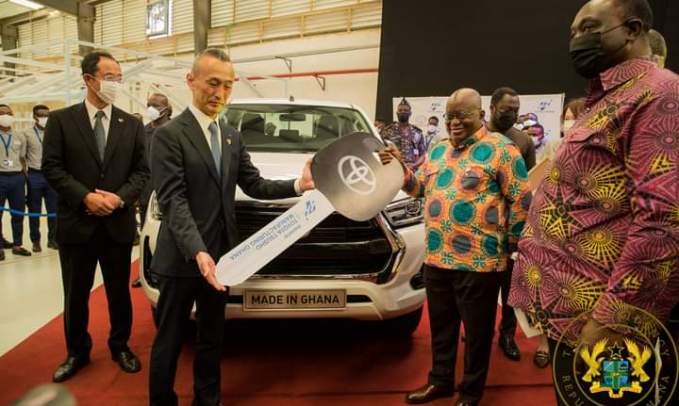 President Akufo-Addo said the assembly plant will help make the acquisition of new vehicles by Ghanaians more affordable as well as enable public sector workers to be able to afford and purchase locally assembled vehicles.
Read also
Visit our facebook page