NEWS
Fulani herdsmen sack Enugu villages, five bodies recovered, many missing ( Graphic pictures)
By Eke Chidinma, January 6, 2022
Tears rain in Mgbuji autonomous community in Eha-Amufu, Isi-Uzo local government area of Enugu as Fulani herdsmen sacked five village farm settlements on Wednesday, killing five including children and women.
This came barely five days three members of the state Neighbourhood Watch were killed while pursuing Fulani kidnappers to rescue wife and 11-year-old daughter of Dr Eugene Edeoga, younger brother of the Enugu State Commissioner for Environment Hon Chijioke Edeoga that were abducted on January 1, 2022.
Our correspondent, who visited Mgbuji Community on Wednesday, report that people carrying their belongings were seen running down to the town from the trouble settlements. The community was in mourning mood while in some families people were crying.
At Chief Eric Ebe, one of the stakeholders' house over 50 women and children who reportedly escaped from the troubled farm settlements were seen clustered with their children and so in other houses in Mgbuji Uno.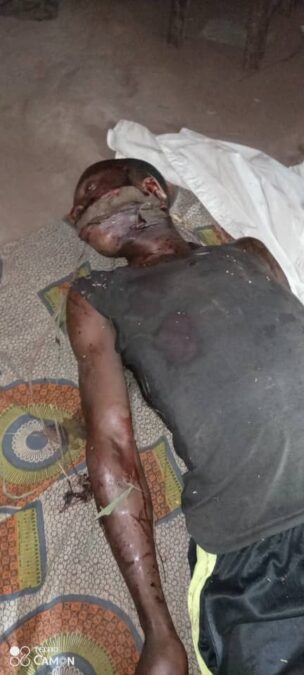 Chief Ebe, who spoke to our correspondent described the invasion of his community as horrific and unwarranted.
He said that since January 1, 2022 no fewer than 10 persons have been killed in his community while so many were kidnapped for ransom.
Lamenting the level of carnage done in the community and gruesome murder of his kinsmen, Ebe said, "What is happening is that Fulani have taken over our place in our farm settlements like Akpufu, Ogbete, Ezeugwu-Omulelu and many other places that we have farm settlements.
"Fulani have taken over those places killing children, women and men. In short they kill anybody they see and destroy our crops. Everything we have cultivated last year they have destroyed all of them including our rice, yam, cassava farms, and not only that they will also come to our people's houses loot their belongings and set their houses ablaze. They even set fire on our rice farms.
"On Tuesday, January 4, 2022 they (Fulani) came and occupied a place we call Isigwe-omule and Ogbete in Mgbuji autonomous community. They started pursuing our people and destroying their houses and properties. When our local security men went to ask them what was the problem they attacked them and started shooting."
He added, "The AK-47 wielding Fulani herdsmen attacked the security men, killed some of our people and many are missing. We have found three corpses lying dead in the bush and nobody can even go and evacuate it. Those they shoot and didn't die are in hospitals.
"We are pleading to the Enugu State Government, all our representatives, the chairman of Isi-Uzo local government and everybody that is touched to at least help us by sending palliatives to now displaced residents who are refugees, camping in various homes.
"Already we have refugees in our community, people that were chased out from their houses from over five farm settlements that we have in the community and in those settlements less than 1,000 people are living there and now they have vacated their homes finding food now everywhere.
"In my own house you can see crowd of people that ran away finding place to sleep in my house, and I feeding them almost everyday. So we are pleading that Government should send palliatives to us and more people that are running away. The people in my house and are also like that in every other household in this village. In short if you go round you may be thinking that there is festival going on here, but no festival is going on, they are people running away from Fulani herdsmen."
A community leader, Chief Moses Olinya, who took our correspondent to see some people that were killed in one of the settlements, lamented that for more than 24hrs security agencies were informed of the invasion and carnage done they were yet to see any government security personnel.
According to him, the suspected Fulani invaded the community around 10 a.m on Tuesday and were still shooting up till this morning.
"When the Fulani militia invaded the community they started with the looting our people's business and destroying their shops at the market square."
Collaborating Chief Ebe's narration, noted "while they were damaging our people's property, our security men were called and when they came those Fulani herdsmen opened fire on them and killed three of them. They were later repelled and around 7:30 they regrouped and came back, they shooting and destroying our houses and other properties till this morning."
"When they came we called both police, DSS and the military but regrettable as at 10am this morning more than 24hrs after we haven't seen any single government security. Now all our things and houses have been destroyed. This morning we saw some people they killed."
Some displaced women, who spoke to our correspondent, appealed to the government to come to their aid and stop Fulanis from invading their community and killing their husbands, women and children.
One of them, Mrs Christiana Ogbu said "they (Fulanis) have killed not one or two persons. They have killed 19 persons including four children and a pregnant woman in less than one week and reported anywhere. We have vacated our homes and now refugees in our community. We are appealing to the government to do something urgently to stop the carnage in our community."
When contacted on telephone, the State Police Public Relations Officer, Daniel Ndukwe, didn't pick his calls.
As at the time of filing this report he had not responded to a text message sent to him.
Meanwhile, the Chairman of Isi-Uzo local government area, Hon Jacob Abonyi, confirmed the invasion, describing the constant Fulani attack on Mgbuji community, killing children, pregnant women and elderly was unacceptable.
Abonyi said "when I got the information on Tuesday, immediately I contacted the police but the Divisional Police Officer's phone number was switched off and I immediately called the military. It is not quite long – about five days ago we were battling about kidnapping in same Mgbuji when the wife and daughter of Eugene Edeoga were kidnapped and they were just released on Monday.
"So, I called the military and we were ready this morning including the Neighbourhood Watch and Forest Guard. Unfortunately, the soldiers that were already at Ikem, said they got a call for another serious emergency from Uzo-Uwani and they decided to turn back and they haven't returned. That is the situation, but all our local security – Neighbourhood Watch and Forest Guards are doing everything to calm down the situation."
Lamenting the situation in Eha-Amufu, the chairman said "Constant attacking of that place, killing people and destroying their properties, farm crops randomly by Fulani herdsmen is unbearable and unacceptable. I call on the Federal Government to address this immediately before people resort to self-help.
"The State Government is doing its best everytime but the terrain of that place is making rescue ever difficult. You can't access the place with vehicle," he lamented.